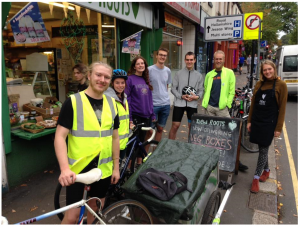 Green just got greener! We all know that fresh, organic and seasonal veg is the way forward – it means a smaller carbon footprint and more delicious dinners. But the New Roots veg box scheme goes further than others. As well as supplying veg that is as local as possible, our veg boxes are delivered exclusively by pedal power by a committed team of cycling enthusiasts.

How does it work?
Each box is a selection of delicious produce sourced from local, organic and seasonal suppliers as far as possible. We deliver veg boxes every Wednesday evening from about 5.30-8pm in reusable cardboard crates, which we try to collect back off you the following week to reduce our waste. We offer either 'fruit and veg' or a 'veg only' box in three sizes:
£7.50 for a Small box
£10 for a Medium box
£15 for a Large
The items in our fruit / veg boxes varies from week to week but we always aim to have potatoes, onions and carrots with 3 or 4 other varieties in our veg box. With the fruit we always have apples, oranges and pears as well as 1 or 2 other varieties. Contents and quantities vary around the year according to what's in season and prices available. The majority of our box is organic, we strive to keep it as organic as possible and on request can easily do a fully organic box. If you have any personal preferences for veg you do or don't want we will happily see that you only get what you love most!
We also offer a range of extra wholefood items that can be included with your veg box, see the list of what's available below.
If you would like to request a veg box delivery simply fill in the following form: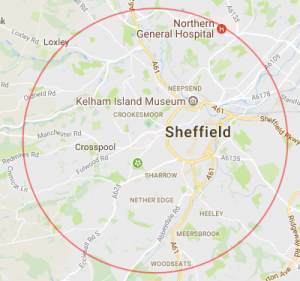 Once your order has been processed we will get back to you by email to confirm your delivery and arrange payment processes. We prefer customers to pay using an automatic recurring PayPal payment but other options are also available.
We are limited by a certain number of miles we can cycle and boxes we can deliver, so we may not be able to provide all enquiries with veg boxes. We are, however, determined to display the power of the pedal, and will work our best to meet your needs! Alternatively you are welcome to collect your veg box from the store on Glossop Road every Wednesday.
If you have any enquiries, or would like to try a one-off box delivery, please contact nrvegbox@gmail.com
Join the Veg Box Cycle Delivery Team!
If you'd like to join us and help deliver our veg boxes you'll have a blast! We like to cycle in pairs so not everyone will need to take a trailer, while some volunteers remain behind to cook a delicious communal meal for the returning cyclists. If you are interested in helping out or have any questions, please either pop into store or contact us in any way! You can also join our Facebook group here: https://www.facebook.com/groups/NewRootsVegBoxTeam/
Extra Items
Below is a list of all the wonderful extras item we can add to your order directly from our lovely little shop including tea, coffee, spreads, toiletries, household cleaning items, bathing items, snack, dried fruit & nuts, grains & pulses, tinned goodies, fridge items suhc as smoked tofu, cakes, pasties & frozen items such as tempeh!
Have a look through and see what takes your fancy, let us know by the end of the week before via email and we can add it to your order for the following Wednesday! Not bad eh?
Link to Extra Items list